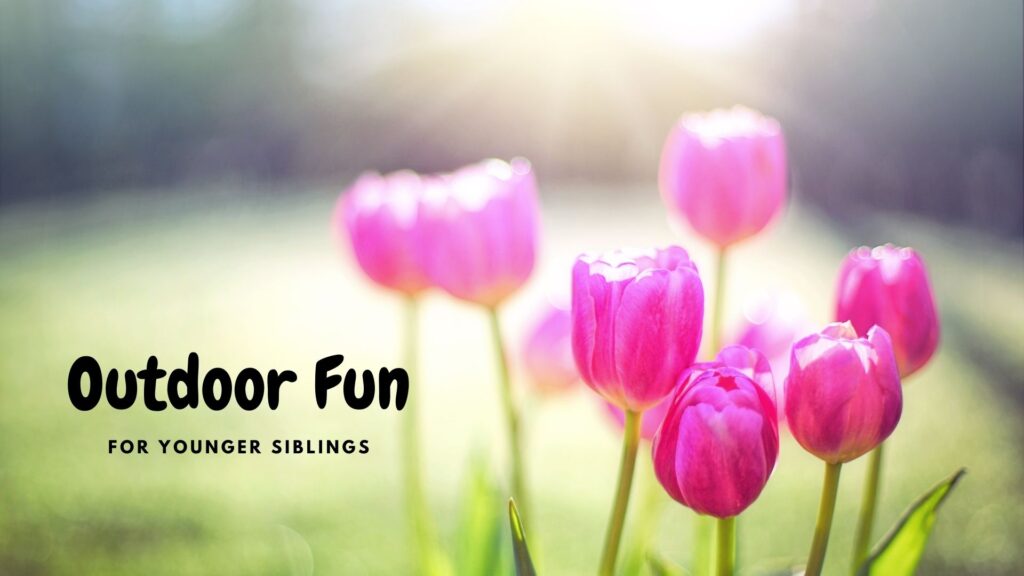 Almost all of our days are now nice and we spend a ton of time doing school outside so I thought I'd focus this set of younger sibling activities on activities we take outside to help the little ones stay busy and safe while the older ones focus for just a few more days.
Draw in Flour – Flour is a fantastic sensory experience but boy is it messy. We save this sensory time for when we can be outside. We bring a cookie sheet and some flour out with us and little one goes to town. The bigs like this one too so sometimes it becomes a way for them to write own their spelling words or math answers but mostly it is for the littlest crew. When I'm feeling extra teacher-ish, I make a paper that has some different shapes to try to copy into the flour.

Color Find – Using different pieces of construction paper, I send the toddler and preschooler off to find things of a particular color. Their goal is to find 5 things in that color. Green, yellow and brown are usually pretty easy. Red, blue and orange usually take a bit longer but in the end rarely do they come back without all of the items.

Shadow Creatures – Have your child stand on the drive or sidewalk. Trace his or her shadow with sidewalk chalk. Now, challenge them to turn their shadow into a fantastic creature. My boys have used chalk to make their creatures, they have also gotten extra creative and used grass, flowers, sticks and dirt.

Find a Four Leaf Clover – I promise I'm not sending them on a wild goose chase or being mean. In our yard, there is a patch of clover that frequently has a four leaf clover in it. This activity takes time, discrimination skills, counting ability and a little bit of good luck. Add a magnifying glass to the mix and they'll stay busy for an hour (results not guaranteed).

Cloud Shapes – Lay a blanket out on the grass and have your child look toward the sky. Show them how a cloud looks like something else in life. Sit with them as they try to find one. After they find their cloud shape, encourage them to draw it. They can use paper and pencil, chalk and sidewalk or a dry erase board. Have them give their cloud drawing the extra details to make their shape more distinct. After they've done it once, it gets easier and you will have some time to focus on the other kiddos.

Rubbings – Texture rubbings are fun and so easy for preschoolers to do. Give your child a piece of paper and a crayon and set them off to find as many textures as they can. Challenge them to rub on a tree, the driveway, a few leaves and anything else you can find.

Weed the Garden – Toddlers and preschoolers love dirt. Use this love to have them help pull out the weeds from around your home. They love it, you get a chore finished, and you have time to work with your other children. Win – win – win.
Our toddlers and preschoolers can be a ray of sunshine. Give them the space and direction they need to safely play while you are spending the majority of your attention with one of their siblings. Keep it smart. Keep it simple.