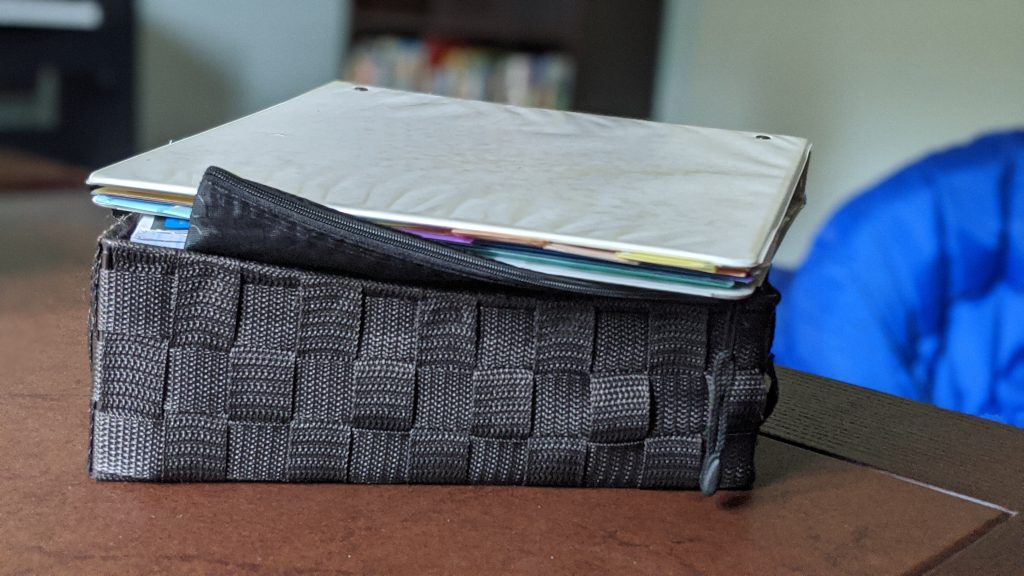 We've all been there, you try to walk through the family living space and it's covered in homeschool stuff. You finally pick you way through and enter the kitchen only to find the books, pencils and markers spread over the entire table. I've even found workbooks IN our bathtub. 🙄 No, I didn't ask why. I don't think I want to know.
With three boys worth of pencils, pens, workbooks, notebooks, binders, textbooks, novels, and other individual materials we needed a system. We had tried backpacks thinking they would be easy to know which bag belonged to whom and would be easy to pick up and take with us when we chose to car school. [No idea what I'm talking about? Check out car schooling here.] Reality was that backpacks were always everywhere, materials were still strewn all about even with constant reminders and this mom was still tired of stepping on pencils and what not else. After talking to the boys, I found that the idea of opening and closing a zipper annoyed them. Who knew it took such effort?
This is when I found these cute 12×12 inch baskets that are just big enough to hold each child's materials! Each child's basket contains his books, workbooks, notebooks, year-long portfolio binder and a pouch of pencils, pens, and a 6 inch ruler. Best part? NO ZIPPERS! Amazingly, this solved the problem. The boys find freedom in the baskets since they can still be carried anywhere in the house to do their work AND they provide easy access to materials. I find freedom in the baskets because there is less clean up and I can still figure out what belongs to whom if I'm trying to go back and look at something quickly.
We choose to keep these baskets on a skinny shelf on bookshelves in our living room for simplicity but they could honestly slide in just about anywhere. In fact, I have a few friends that have also adopted this method and one keeps the baskets under the child's bed and the other puts them in one of the lower cabinets in her kitchen so they are completely out of sight.
However, you choose to organize your child's materials, make sure that access and clean up is easy. No one needs another "zipper" to hold them back from actually putting things away. As always, keep it smart and keep it simple.