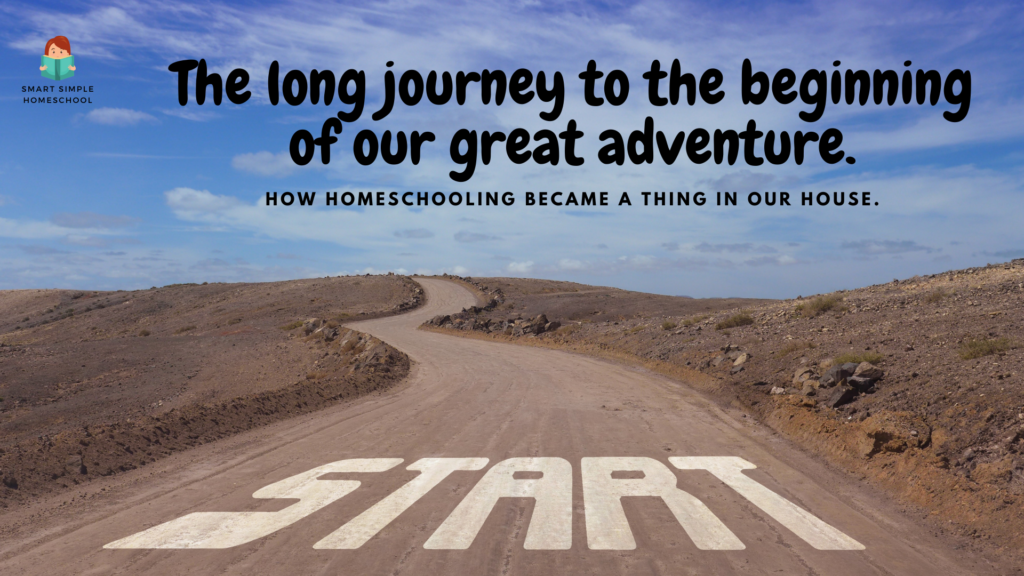 Just take the first step. Like the Chinese proverb says "A journey of a thousand miles begins with a single step."
My husband had been an advocate for homeschooling since the time our oldest was born. His school experience hadn't been the greatest and he didn't want our kids to feel the same strain of being in a desk all day long. As a public school teacher, I assured him that times had changed and that most teachers were no longer tying children to a desk and handing out worksheet after worksheet. The schools I had worked in were fun environments where hands on learning was highly encouraged, at least for the most part.
As soon as our first bundle of joy reached the age of three I was on the hunt for an appropriate preschool program. He was a bright little boy and obviously needed more than I felt I could do at home. Don't get me wrong we had done art activities and learned all his colors, he could count to 100 by ones, twos, fives and tens. He could read short vowel words, knew the days of the week, the months of the year and how to tell time on a digital clock. We had done a lot of learning. I was a teacher before his birth after all. But, I was still sure he would be better off somewhere out of our home. We enrolled him in a two day a week program and I was sure this was the end of the homeschooling discussion.
Fast forward a couple of years to deciding about a kindergarten program for what we had at that point learned was our highly unusual and highly academic child. Our local public school had just implemented full day kindergarten which would put him out of our house from 9am to 4pm every day. I was worried about him being bored out of his mind and so I inquired about the half day option that on paper existed only to find out that the district frowned heavily on this choice. Well, we could keep him at his little private school. Yes, it was a drive from the house but my husband drove past it on the way to work and I could just go and pick him up while the other boys napped in the car. With an unsure husband who only agreed because I was so insistent that he go to an actual school, we kept him enrolled at the private school.
One year later we were back at the drawing board. Private school tuition was expensive, another one of the boys would be starting preschool that year and we had just learned we were expecting our fourth. This second child to enter school while academically ready, was not nearly as outgoing and had some intense moments of anxiety. Private school was not going to be a good option for him or us as a financially as a family. We had also found that making friends was tricky because our private school pulled kids from all over the city meaning that we were driving nearly 50 minutes one way for a playdate. This time I had a new solution. A neighboring school district would allow us to open enroll our oldest and the next one could go to a smaller, closer, one day a week preschool program. That year moved along quickly and smoothly. I was thrilled we had found our solution and the boys were happy in their schools.
Come early May, our preschooler announced that he WOULD be going to kindergarten and he would be going RIGHT NOW. As parents we wondered if our little guy could make it. After all, he would turn five just two days before school would start back in August. So as a way of appeasing him and giving ourselves some time to process and pray, we bought a homeschool kindergarten curriculum and started the second week of May. He and I had a blast! We schooled all the way through the summer and come August jointly decided that we were going to keep going at home. The oldest still went to the school he was open enrolled in and everything was beautiful until about three months into the school year when the school district our oldest was enrolled in began to discuss no longer accepting open enrolled students. He would get to finish the year but then he would have to change schools again.
I went on a desperate search through the entire winter and spring for another school to enroll him in. We talked to all the local districts, all the local private schools and even discussed options with the district we lived in. Nothing was looking like a viable option. Many schools were asking us to do things we did not want to do with our oldest and several were going to put our next one into kindergarten despite him having completed kindergarten at home. We were at a crossroads. My husband continued to quietly advocate for bringing the oldest home and actually being a full homeschool family. After many a sleepless night and more tears than would fill a bucket, I finally decided that God was closing all the other doors because I was too stubborn to listen when other doors were open. I agreed to give it is shot but only through the summer. We would do light school through the summer and if we weren't killing each other, I would give it a try for the year.
And the rest as they say is history. I'm not going to say there haven't been bumps in the road or days when I've asked myself what in the world I am doing because they are driving me crazy or things would be so much less chaotic if they were in school, but bringing them all home has been a life changing and life giving experience for our family. It isn't for everyone. In fact, I sometimes think I spend more time talking families out of homeschooling instead of into homeschooling. No matter how you come to your journey everyone's journey begins with the first step. A journey of a hundred or thousand school days begins with the first step. May your journey be an adventure. Keep it smart. Keep it simple.